Lyla shares her story of her older brother's influence, protecting her from an arranged marriage and encouraging her service as an active duty as a Navy Surface Warfare and Intelligence officer. She currently runs a non-profit dedicated to leadership of both women and men in the U.S. Special Operations community.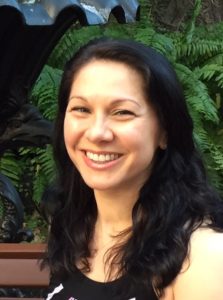 "My family emigrated from Afghanistan to the U.S. in 1982, a few months before my third birthday. I grew up in a conservative Sunni Muslim home. When I turned 12, my father planned to take me from our home in Springfield, Virginia to Afghanistan so he could arrange my marriage to a man in his 50s.
My older brother Bashir, an enlisted U.S. Navy Corpsman in San Diego at the time, convinced my father to allow me and my mother to move in with him so I could continue my education. When my father was killed during his trip overseas, a 19-year-old Bashir legally adopted me since my mother did not speak English. In addition to working long shifts at the military hospital and making very little money as a junior enlisted sailor, he worked weekends at a civilian clinic so he could afford our spartan two-bedroom apartment. After years of us living off mainly beans and rice, he fought to get into a Bachelor's program so he could become an officer. His commitment to taking care of me and our mother was his primary motivator to work harder and reach higher.
As an officer, he volunteered for multiple deployments to Afghanistan. I followed in his footsteps by joining the Navy but he insisted I become an officer as well. He helped me prepare for college interviews and complete my applications. He also said he would take on additional jobs in order to pay for my college education.
Thankfully, I received a Navy ROTC scholarship and graduated from Penn State in 2001. I served on active duty until 2007 as a Surface Warfare and then Intelligence officer, completing a deployment to Afghanistan as a counter-terrorism analyst. Since leaving the military, I continued to serve as a counter-insurgency analyst, instructor, and advisor.
I'm graduating in May with a Master's from Georgetown University and will apply for Ph.D. in 2018. I'm the first woman in my family to earn a high school diploma, attend a university, join the military, and open a small business. None of these achievements would have been possible without my brother's encouragement and support.
My brother has been my role model, my mentor, and my champion my entire life. He is, without a doubt, the most selfless man I know. He taught me to respect myself so I could demand respect from others. He's now retired after serving 22 years and is married to a successful Naval officer. As a stay-at-home father, he makes a very conscious choice to teach his young son to respect all women (including his baby sister) and to stand up for anyone who is mistreated.
I have personally felt the effect strong male mentors and role models can make on a young woman. I recently co-founded PROMOTE, a non-profit addressing the challenges women face as aspiring leaders in a predominantly male military. We connect junior female service members with mentors — both men and women — and provide professional development education to retain talented young women. Our mission is to transform how military leaders mentor the next generation of leaders, ensuring cross-gender mentoring becomes the norm and not the exception.
As with all my life's endeavors, my brother is my biggest champion and I know I can count on him every step of the way."
– Lyla, Diversity & Inclusion Strategist
Washington, D.C.

This story was first published on Facebook and at The Corner of the Court Project.